The 28 Best Fitness Instagram Accounts To Follow For Major Motivation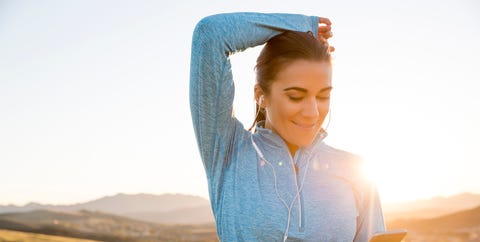 Instagram is a primo place to find drool-worthy food photos, adorable videos of dogs wearing winter coats, and pics on pics on pics of your celeb crush doing their thing. It's also a total jackpot of fitness advice and tips, plus all kinds of workouts (from HIIT, to cardio, to weight training, and everything in between). In fact, there's so many awesome trainers, athletes, and instructors on Instagram dishing out badass content, the only question that remains is which ones are worth hitting "follow."
If you're looking for workouts you can do anywhere, quick moves to squeeze in at any time, or mobility exercises to help you recover, this trainer and SoulCycle instructor has your back (and butt and arms and abs!).
(Catch Charlee in our 30-Day Fitness Challenge videos.)
Along with posting killer kettlebell workouts and photos of beautiful yoga poses around the world, Alex writes thoughtful captions about mental health and balance. She often reveals her relatable struggles about her relationship with food and her body, a great reminder that you're not alone in the ups and downs of fitness—or life.
Learn to move better—and avoid injuries—by following this physical therapy account. You'll see strength moves for runners, foam rolling techniques, muscle activation drills, and so much more. Two physical therapists and trainers who work there deserve a follow, too: @cameron_yuen and @dangiordanodpt.
Almost every one of Morit's posts features a full-on workout, complete with videos, reps, sets. Between those workout posts, she shares her personal journey with fitness, too.
It's hard to find a trainer with more energy than Anna! Her smile is contagious, as is her fierce, cheerful attitude. Follow her for eating and exercise tips—and all-around good vibes.
The fit duo, Lauren and Jason Pak run this form-focused account. Don't know how to nail a deadlift? Feeling squats in your lower back? They'll teach you how to do it all properly, so you can see results—not injuries.
Whether it's a sandbag circuit or a cardio conditioning, Hannah offers tons of mini workouts. She'll also pose questions to her followers (about their fave workouts, their biggest struggle with fitness, etc), then provides tons of helpful insight and healthy lifestyle tips in return. "Focus on the process rather than on your end goal. You'll be happier and more present each day," she wrote in one post.
You'll find tons of workout advice and fitspo on Holly's page, including quick routines and exercise suggestions. She also dishes real talk, like when she described her near-death experience by assault bike and what she learned in 2018.
"Strength over the scale." That's how Idalis approaches fitness, and it comes across in the workouts she shares with followers. You'll get a mix of routines from Idalis on her feed: cardio, circuit workouts, bodyweight strength training, HIIT, and more.
A little humor, a lot of lifting, and some pole exercises are on the line-up if you follow this trainer. Her posts will definitely make you smile, and maybe even inspire you to take a pole dancing class (not an easy feat!).
I challenge you to go to Jess' IG, view her posts, and not feel inspired to run a few miles. Girl knows how to crush races and promote her clients' progress—and you'll immediately want to follow her footsteps.
Partner workouts, badass moves, smoothie recipes, boosts of confidence—you'll get it all from the Hollywood Trainer. Follow along and you'll instantly feel inspired to try her fun, creative moves.
This strong woman's moves are INSANE! She shows off tons of awesome workouts that mix up equipment (think bodyweight, barbells, resistance bands, chairs, even toilet paper!) and makes each exercise look easy with a smile on her face.
I know what you're thinking: another shout out to CrossFit? But hear me out, because this page is extra inspiring! It's not all about the WODs or heavy lifts (though you'll see those too); the posts focus more on sharing members' successes. And you'll spot a mix of ages, sizes, and races nailing their goals.
Joe, who trains models like Naomi Campbell, gives lots of technical training advice in his Instagram Stories. He'll show you better ways to train your core, how to reach your full athletic potential, and the importance of ~smarter~ workouts. He'll likely inspire you to eat more plants, too.
Six-pack abs and chiseled arms might draw you to her page, hoping to find out what she does to stay so ripped. Lucky for you, she reveals a lot of effective workout moves and routines, so you can do the same at home.
Kira is incredibly fit, and she often shows advanced exercises on her page, but her focus on form and motivational words will help you mimic her movements without injury. She also does her workouts all over (at home, on vacation, in the gym), so you have plenty of material to choose from, no matter where you're looking to train.
Consider Kirsty your go-to HIIT trainer (she's a Nike Master Trainer). She'll show you some crazy intense combos to try at home, whether they involve your bodyweight or cardio equipment like the rower, ski erg, bike—or all three.
Mobility exercises and strength training fill this NYC trainer's feed. He shares the routines he does with clients, along with how he keeps himself in top shape.
This Peloton Tread instructor often shares the workouts she created for the Peloton app. And she offers insight into the workouts she does on her own, including how she stays active on vacation. (Hint: It doesn't include the gym but rather a lot of adventuring.)
Another Peloton instructor, Robin Arzon, leads you through bike rides and treadmill runs. She offers lots of words of wisdom, too: "You woke up today. Might as well be a badass."
Fitness requires a stable mind as much as it does a strong body. Rachel Mariotti recognizes this—and talks about it often. In addition to the solid workouts she shares, Mariotti also talks about what she does to keep her mind sharp. Good thing she has a master's degree in psychology!
This mom and trainer shares routines and challenges for her followers, giving extra advice for moms-to-be and post-natal mamas. She also shares the struggles (and successes) of momhood. In other words, she's a great person to have on your feed if you're looking to stay active pre- or post-pregnancy.
This Johns Hopkins professor performs yoga poses all over, adding uplifting captions to each pic she posts. Take a look, then make sure you read for tidbits like: "We get to try again. It doesn't matter what happened last year, last month, last week or yesterday. Today we get to try again."
Owner and CEO of the workout brand, Body by Simone, this new mama has been posting lots of pregnancy-friendly workouts lately. Even if you're not pregs, though, you'll find her effective moves and positive energy captivating enough to follow along.
(Check out Simone's 20-minute bodyweight workout.)
Anna's energy is totally infectious, and her Instagram feed is filled with a mix of workouts for just about every body part. She also shares tons of inspiring before and after photos from women who have used her Fit Body App program, along with her own transformation photos.
Emily Skye is a badass Aussie trainer who isn't afraid to get real with her followers. Skye created the FIT Program, and personally followed it to get stronger post-pregnancy. She's been super honest about her ups and downs during her fitness journey—and those down-to-earth posts, plus her fit tips, are totally worth a follow.
(Check out Emily Skye's fave core moves.)
Trainer, fitness model, and workout instructor Bree Branker has one of the cutest fitness Instagram accounts around. She shares fun energetic posts about her life as a trainer in the city—including snaps of her fitness community and videos of workouts you can do at home.
Not to mention, her adorable pup makes frequent appearances, as does her soon-to-be hubby @cjkoegel who's also worth a follow. (In fact, Women's Health and Men's Health named them the top power couple of 2018.)
["source=womenshealthmag"]